About Craft flow
The implementation of CRAFT FLOW: REFUGEE EMPOWERMENT THROUGH CRAFT&ENTREPRENEURSHIP project is a craft&entrepreneurship start up programme, targeting in particular vulnerable social groups of young asylum seekers, immigrants, and refugees. The project is a product of the cross sectoral cooperation and collaboration of the following three organisations: Terra Vera Association for Sustainable development (Kostanjevica na Krki, Slovenia), Craftspace (Birmingham, UK), and Institute for Conflict Transformation and Social Justice, Queen's University (Belfast, Northern Ireland). One of the project's main outputs is a toolkit 'From crafter to entrepreneur', designed for members of vulnerable social groups. In this first phase for young migrants, asylum seekers and refugees, the toolkit is divided into a series of chapters, each covering a series of important steps in the development of a craft-entrepreneurship initiative and the creation of an ethical marketing brand, from idea to the final product. This aids the development of the requisite knowledge and competencies needed for the effective marketing of these ethical, sustainable crafts. The toolkit results from expert reccommendations and the combined experiences of our partner organisations, as well as experiences garnered from working with the case study group in Slovenia. Individual chapters have been regularly tested on a group of 20 participants (refugees) and therefore provide a non-formal learning programme. This helps participant's strengthen their entrepreneurship skills and get first-hand experience of the cultural heritage of the local environment, as well as facilitating the development of an ethical marketing brand and cooperation with local artisans/ designers in order to create prototypes of handicraft products, bringing thus added value to the overall goals of the project. The testing programme was carried out throughout the 10-months project in the form of a two day workshop taking place each month. We also developed mentoring and peer support practices, emphasizing (most importantly) the role of psychological and social help to participating refugees. We developed team building and group work capacities as well as skill building in the space of craft and entrepreneurship with the ability to link traditional technologies to contemporary design approaches.
networking
With the project we aim to introduce new, innovative ways of networking on all levels- both formally and in-formally, at local as well as international level. We thus created a social network between participants (refugees) and local handcrafters, designers, instructors, potential employers and other stakeholders who can transfer their practical experience and know-how. We believe that the formation of networks and access to these spaces is as important as business training and technical assistance. Our aim is to contribute to the better integration of refugees into the European Union, providing expert knowledge of the necessary frameworks for social inclusion and promoting the benefits of their cultural contributions and creativity.
In the project, we set up an E-platform in both Slovene and English, which remains to be maintained after project completion as a free open source site. This systematizes and organises the non-formal learning material resulting from the project (Online toolkit, video material and the basis for the online shop where it will be possible to seel&buy products once the project is over).
Mixing always provides us with something new, for instance if we add some colour pigment and send the spectrum into infinity. In the same way we can reach infinite solutions through connections and projects, such as for example the SoDeloValnice (Cooperation Rooms) for the refugee youth. Prejudices, stereotypes and fears disappear – "Nothing can be lost, we can only gain!'' (The Space in Between) "While most people rushed to their jobs or were performing errands in their everyday hustle and bustle, a one week workshop took place in September in Kostanjevica na Krki . This was a relaxed intergenerational and multicultural exchange of ideas for creating furniture that is presented in front of you here today. The concept and idea grew day by day, a lot of sawing, cutting, painting, drilling, grinding and embroidery was necessary … At the end we achieved our desired results – after a hard day of work we could sit it a chair we have created and feel the equilibrium and the lightness of the pelvic area.''
(Prostor vmes/ The Space in between)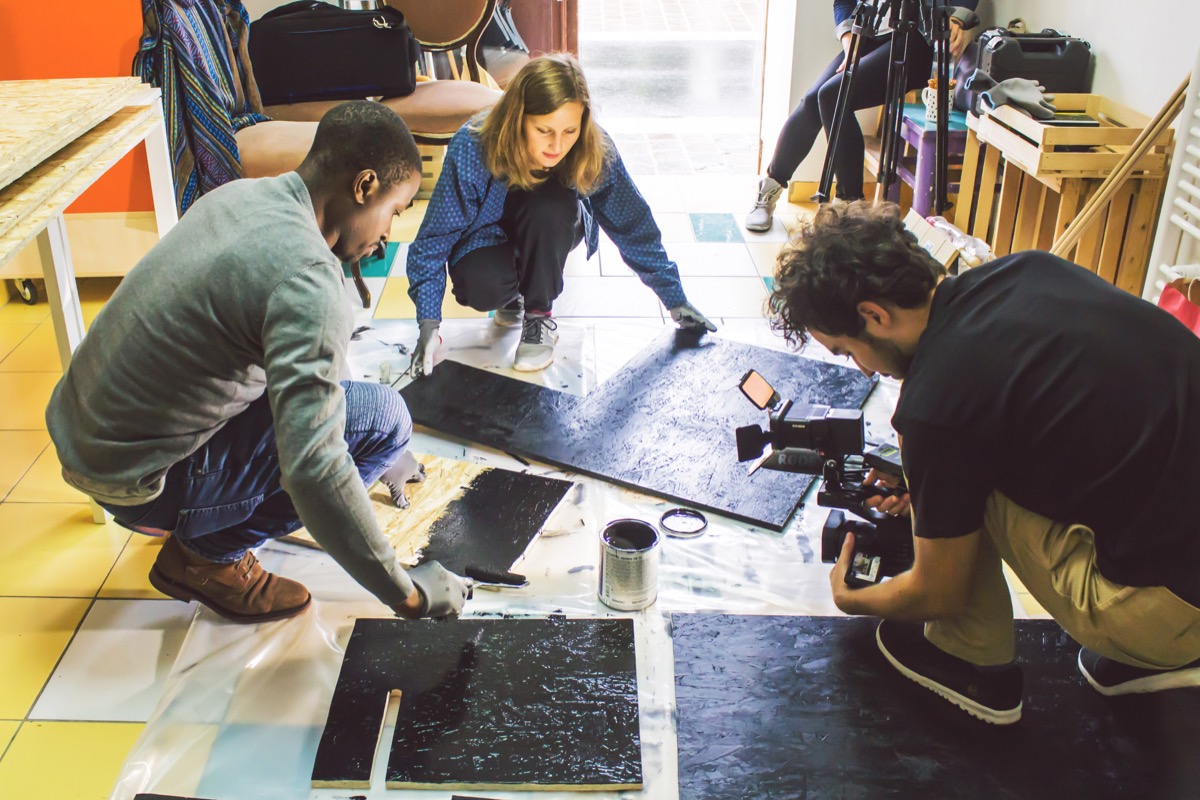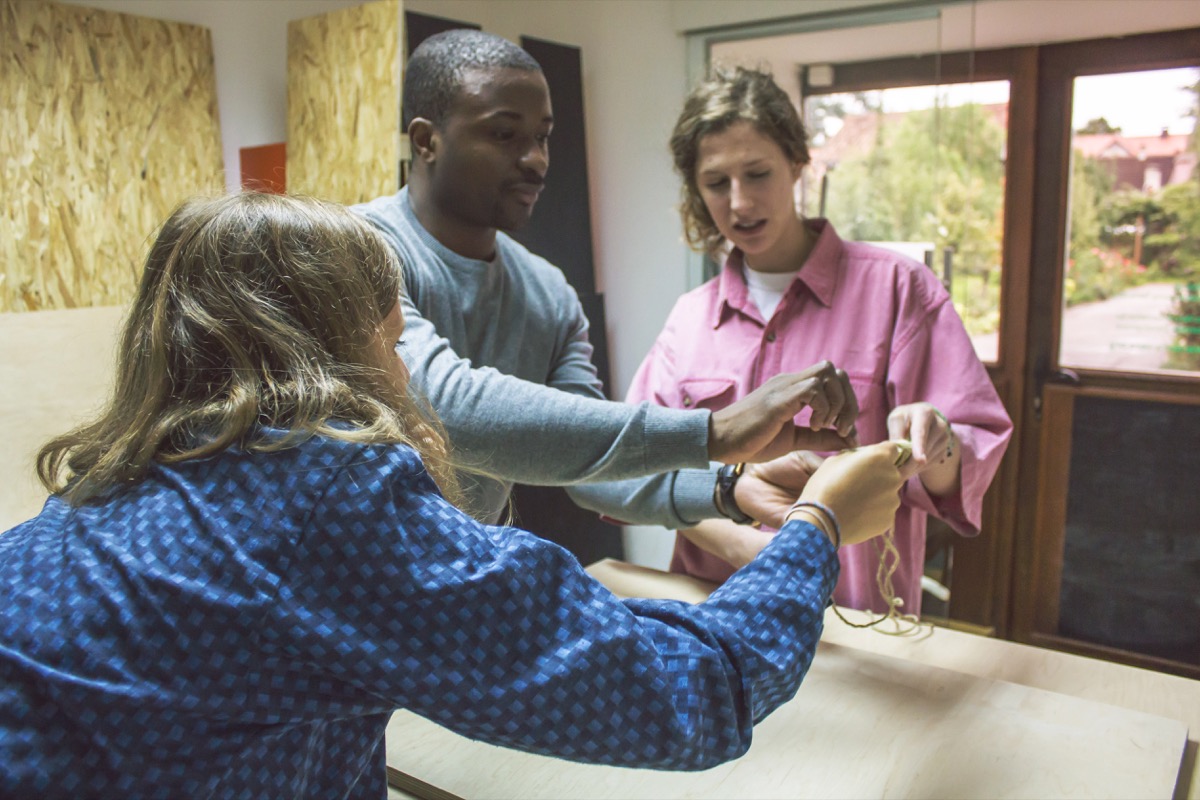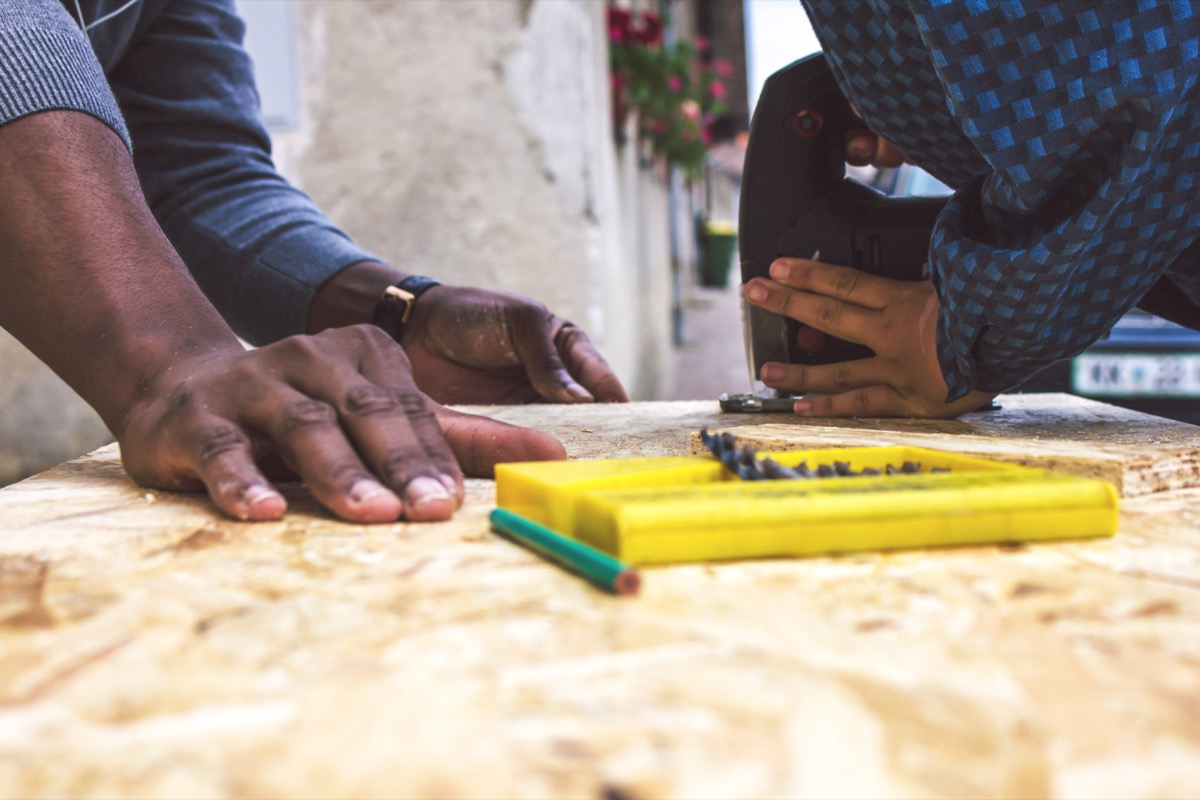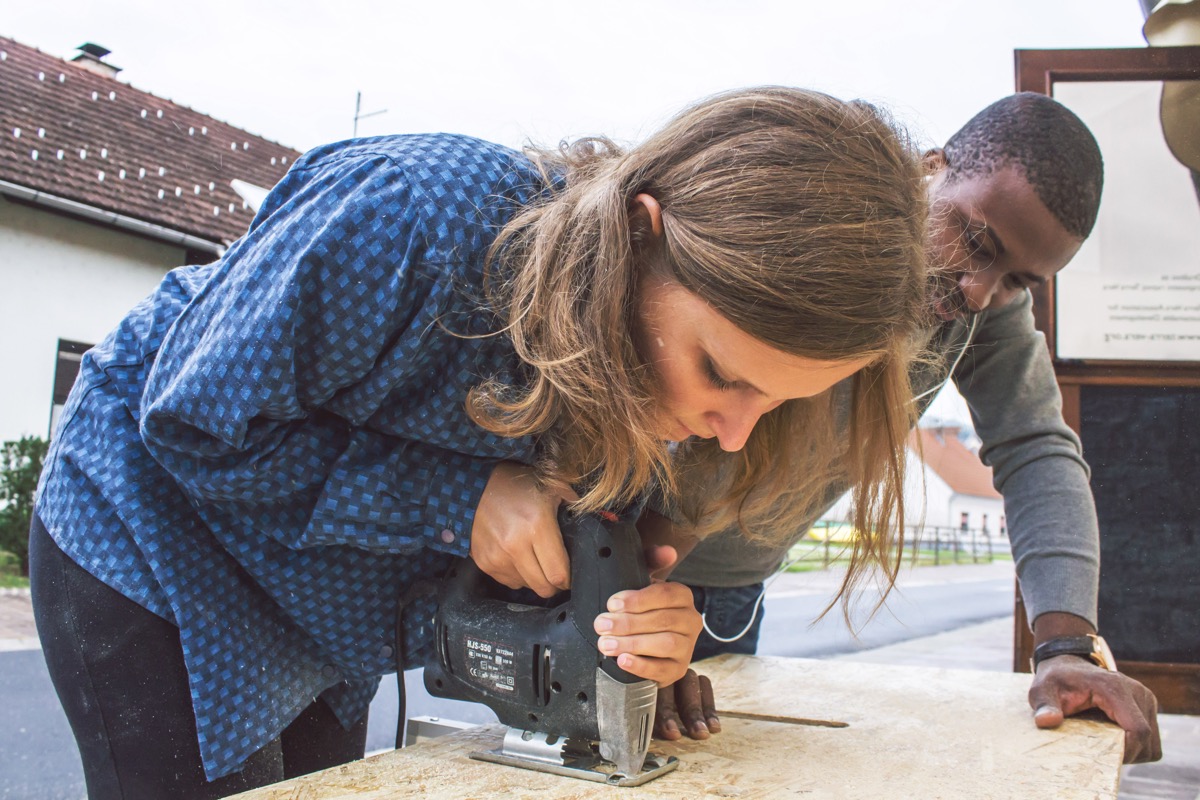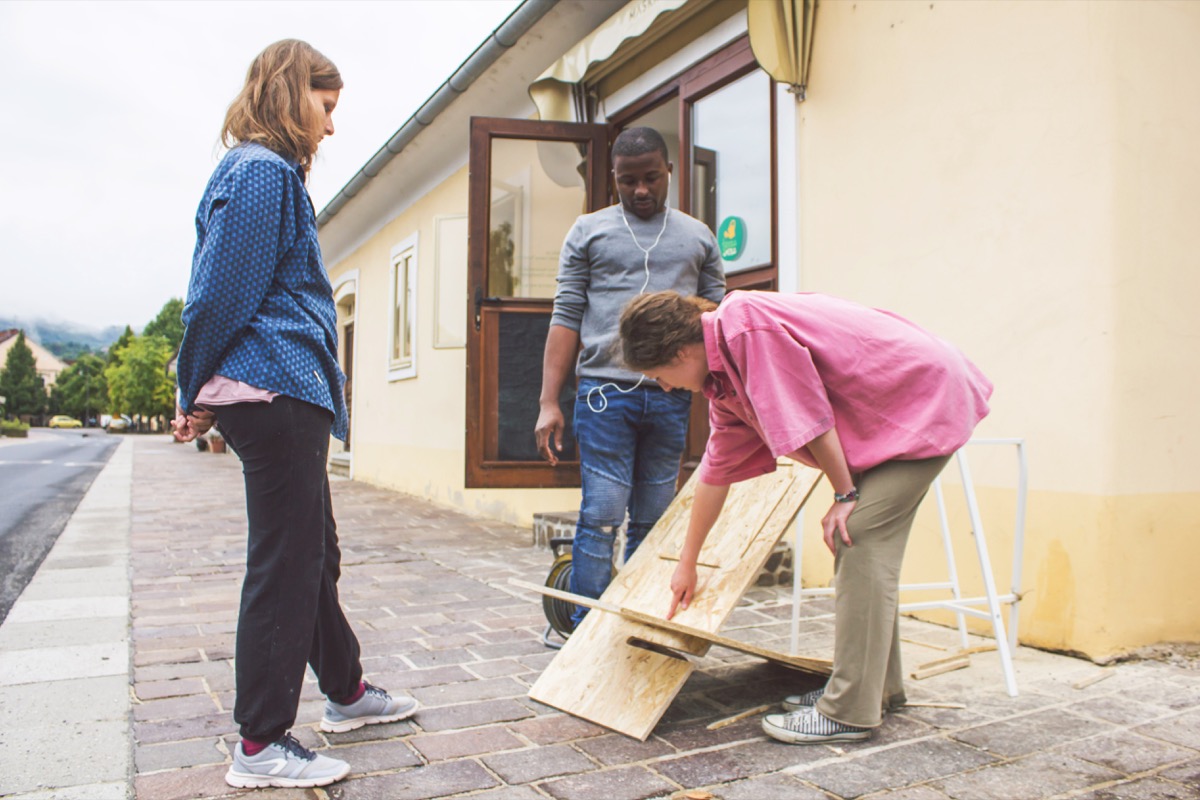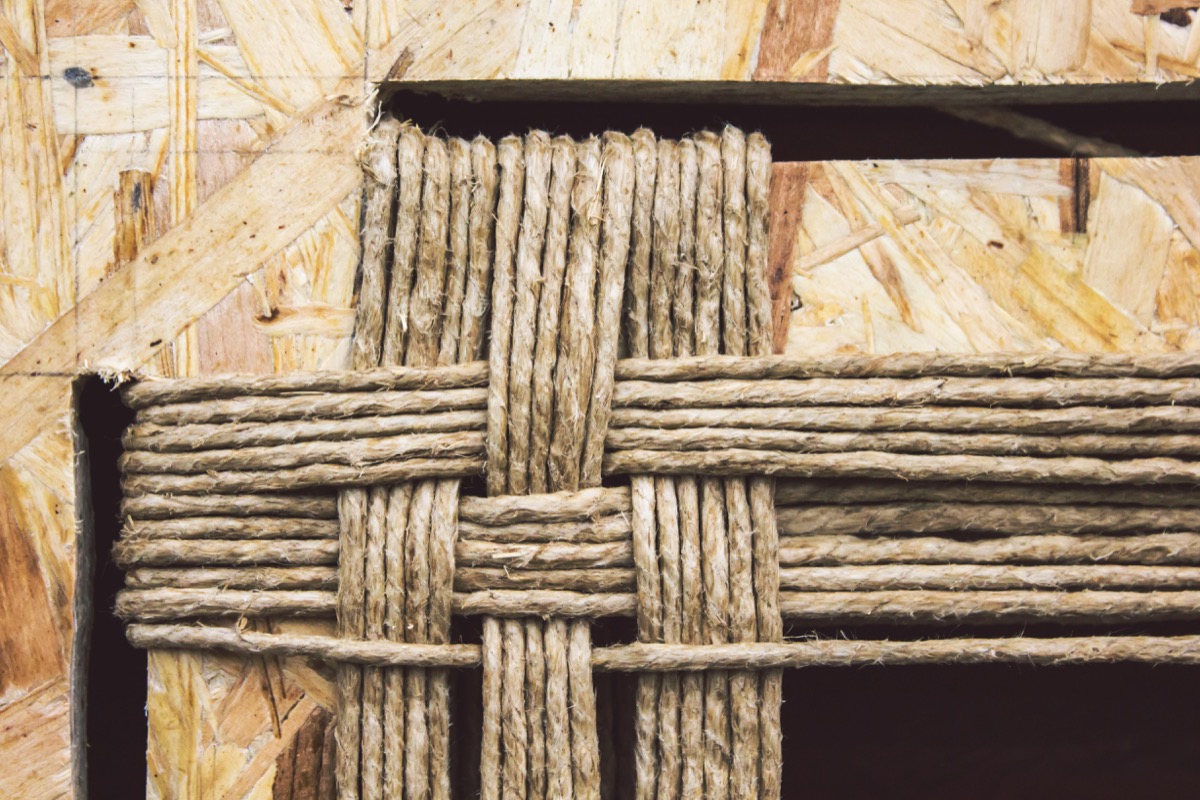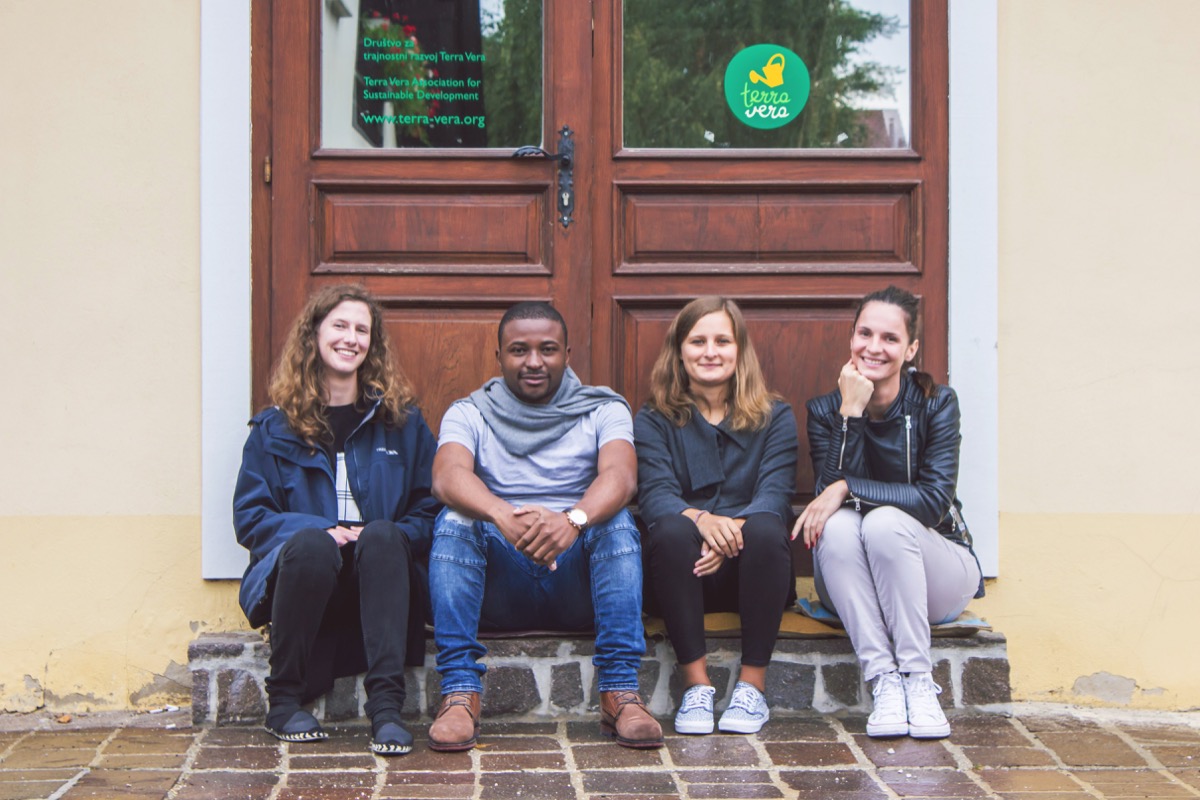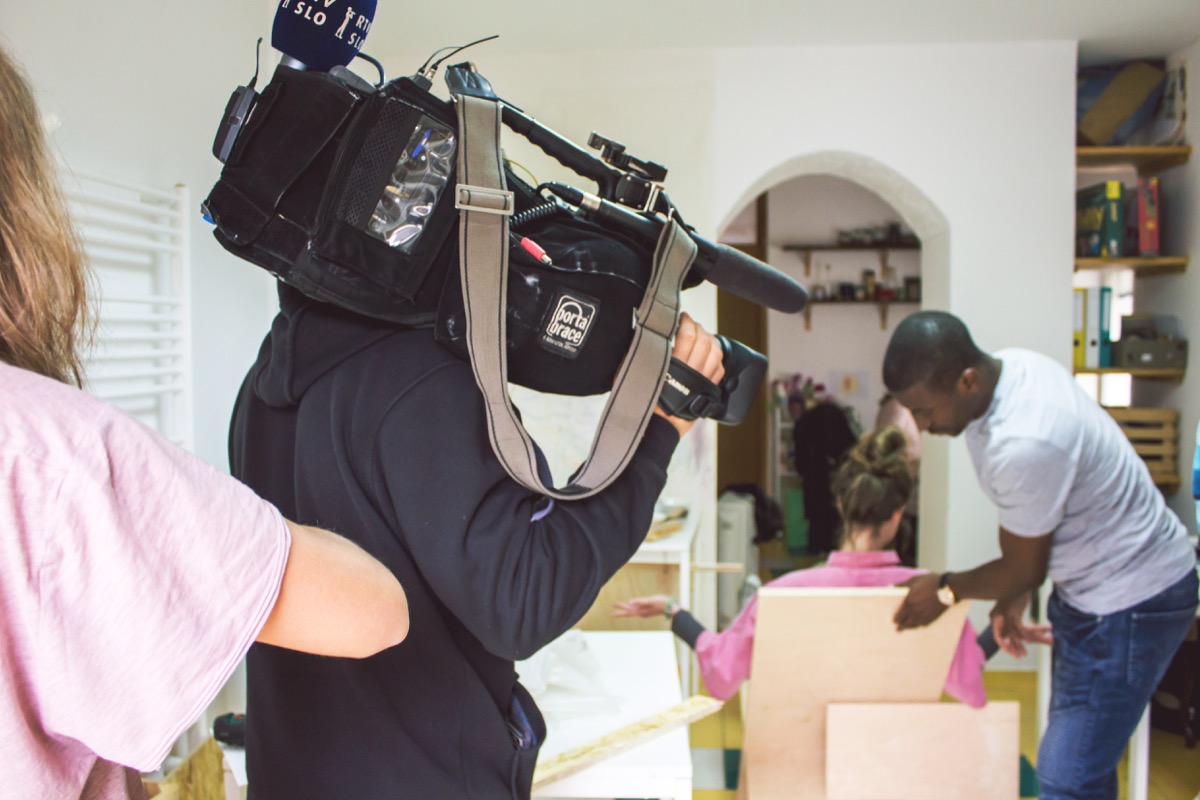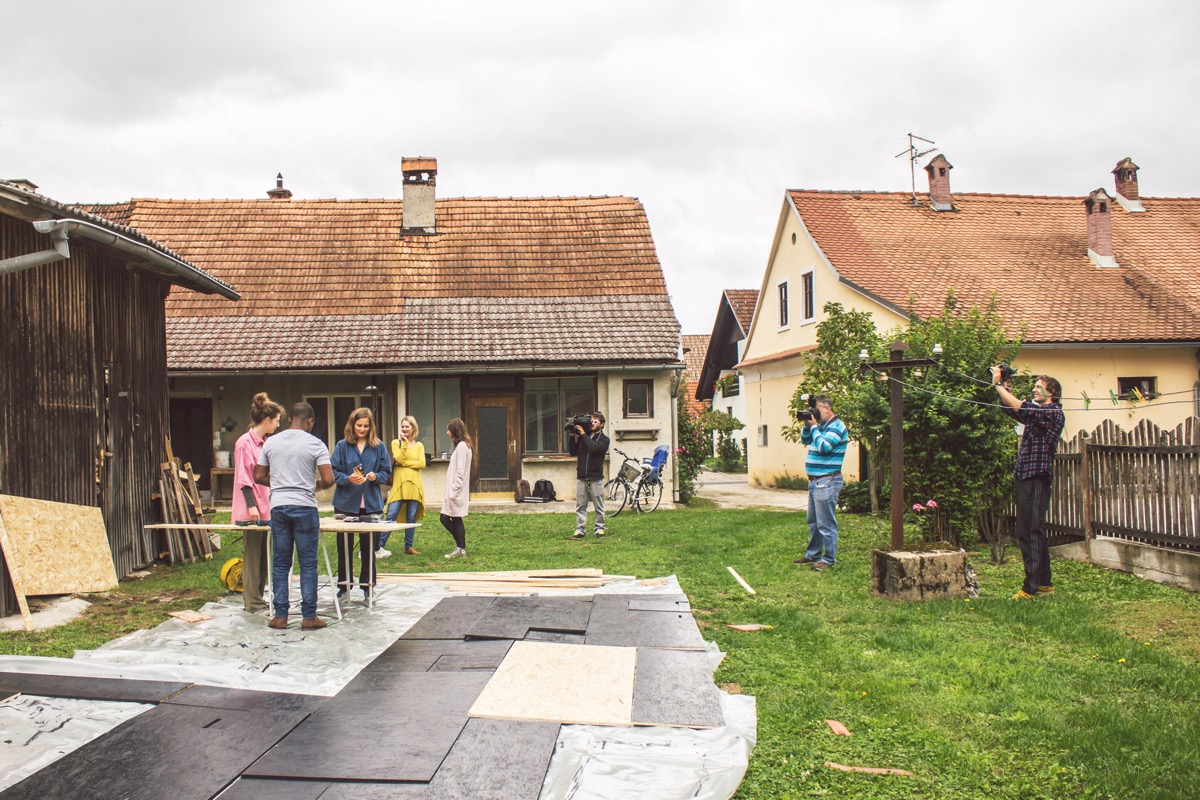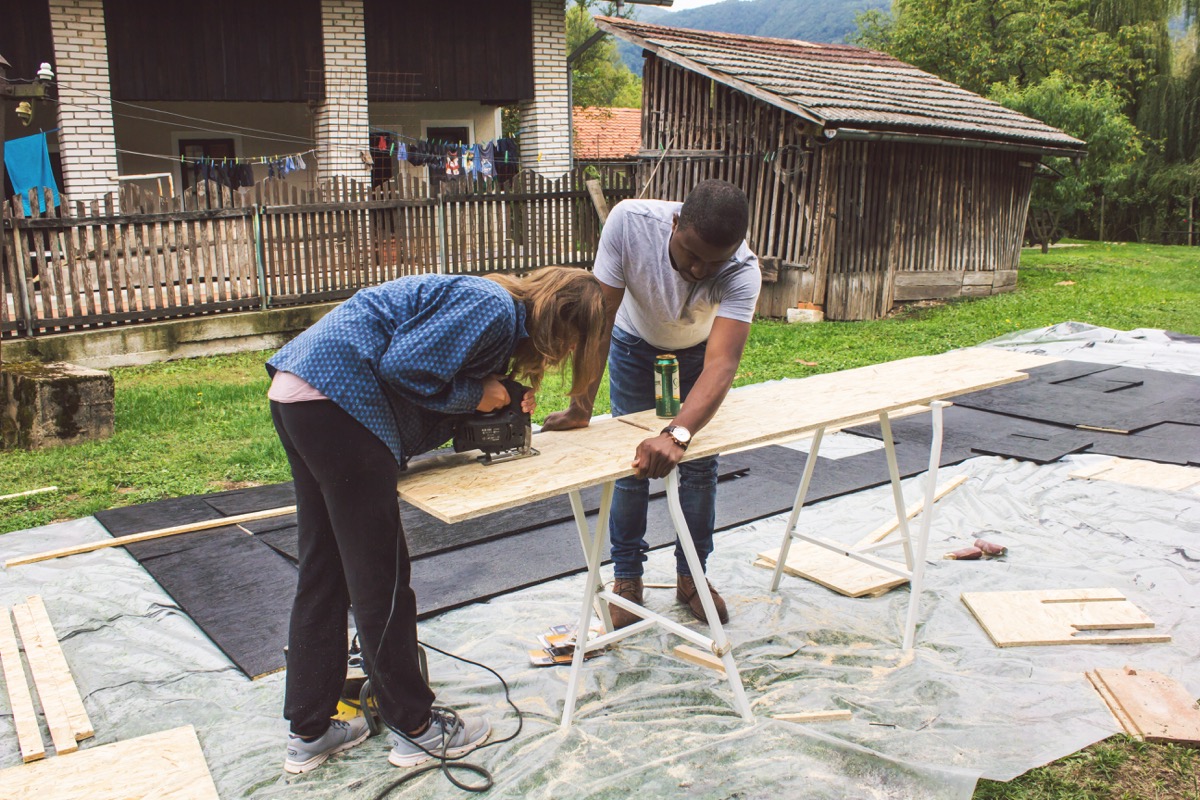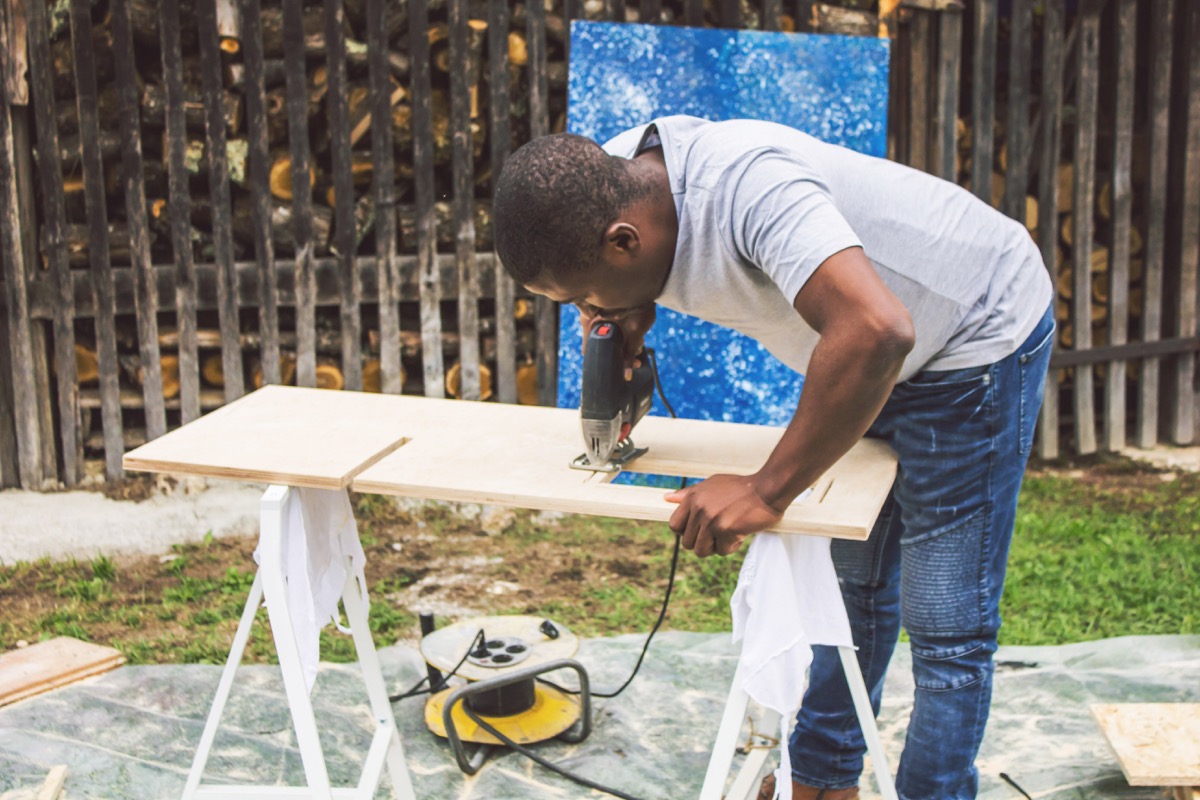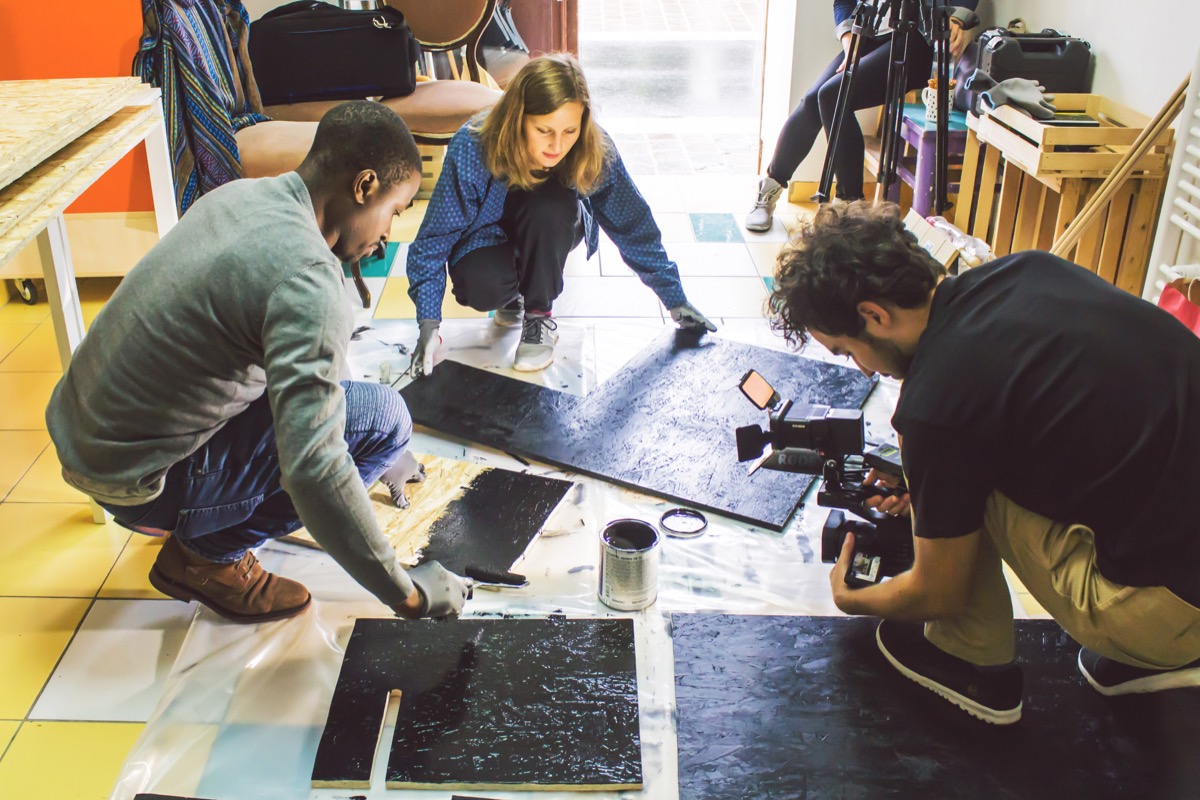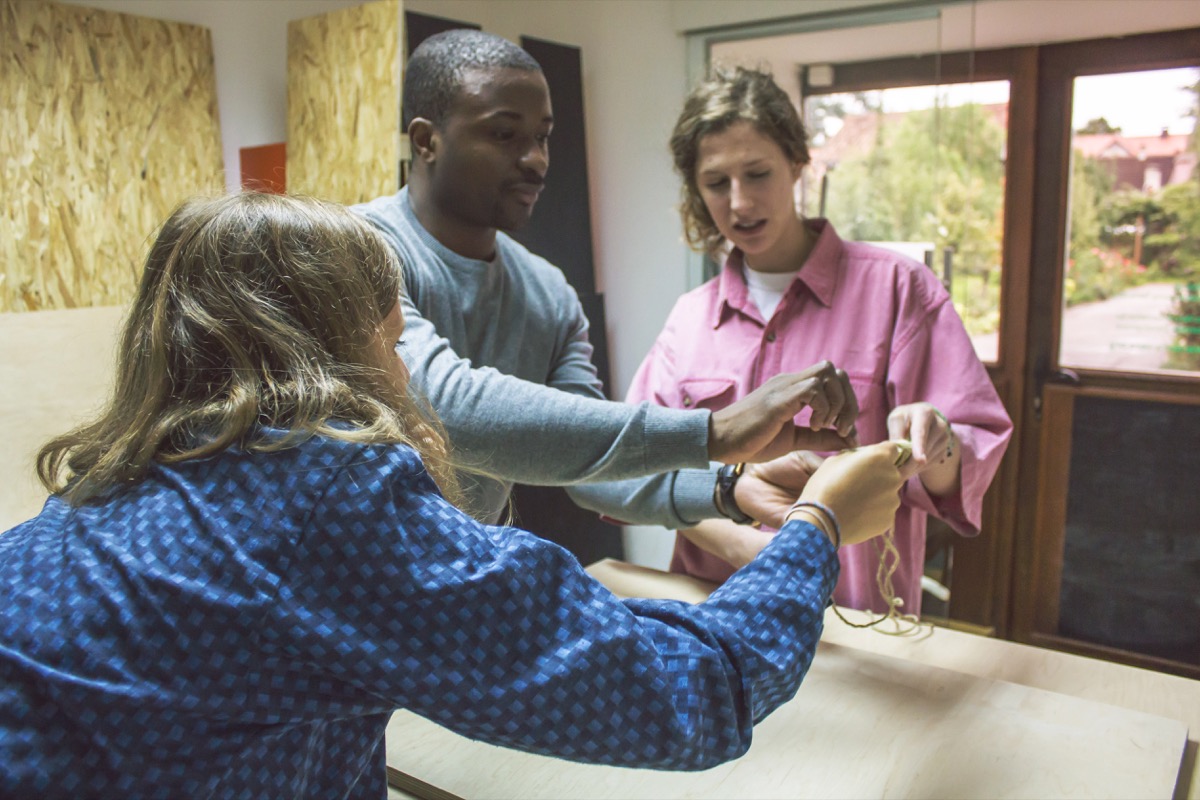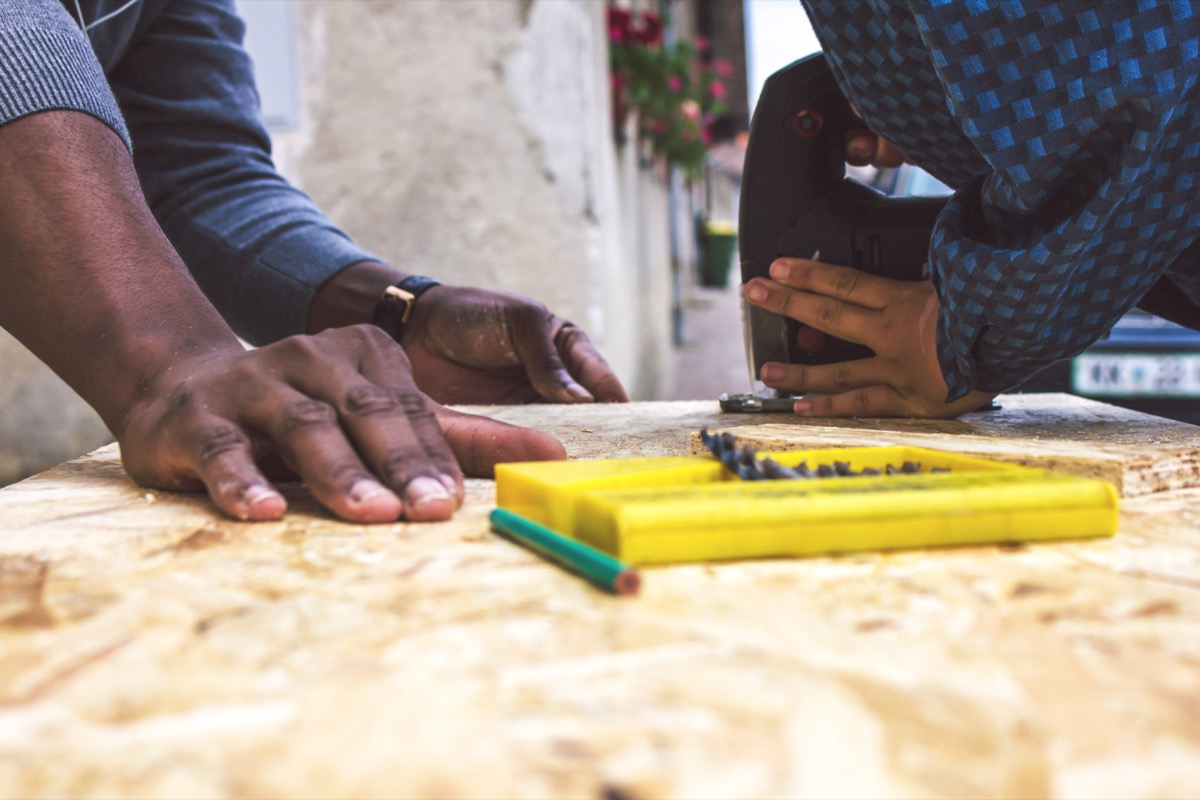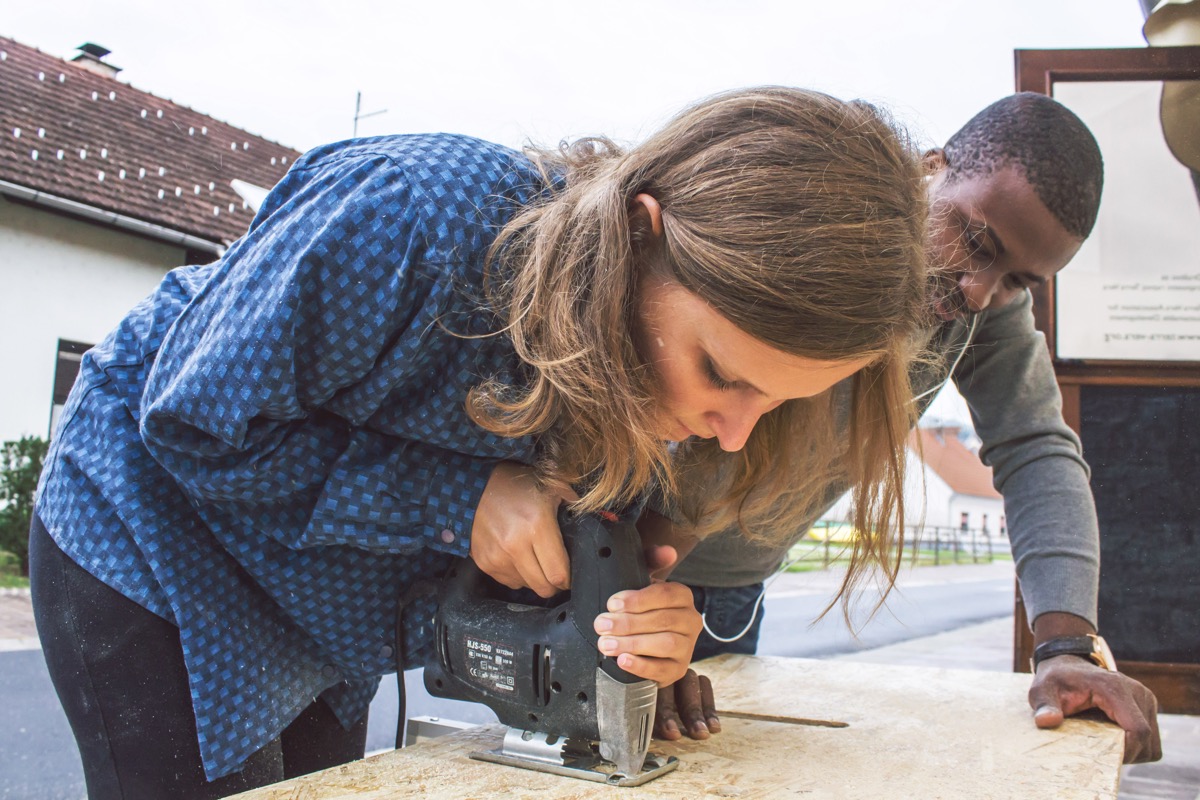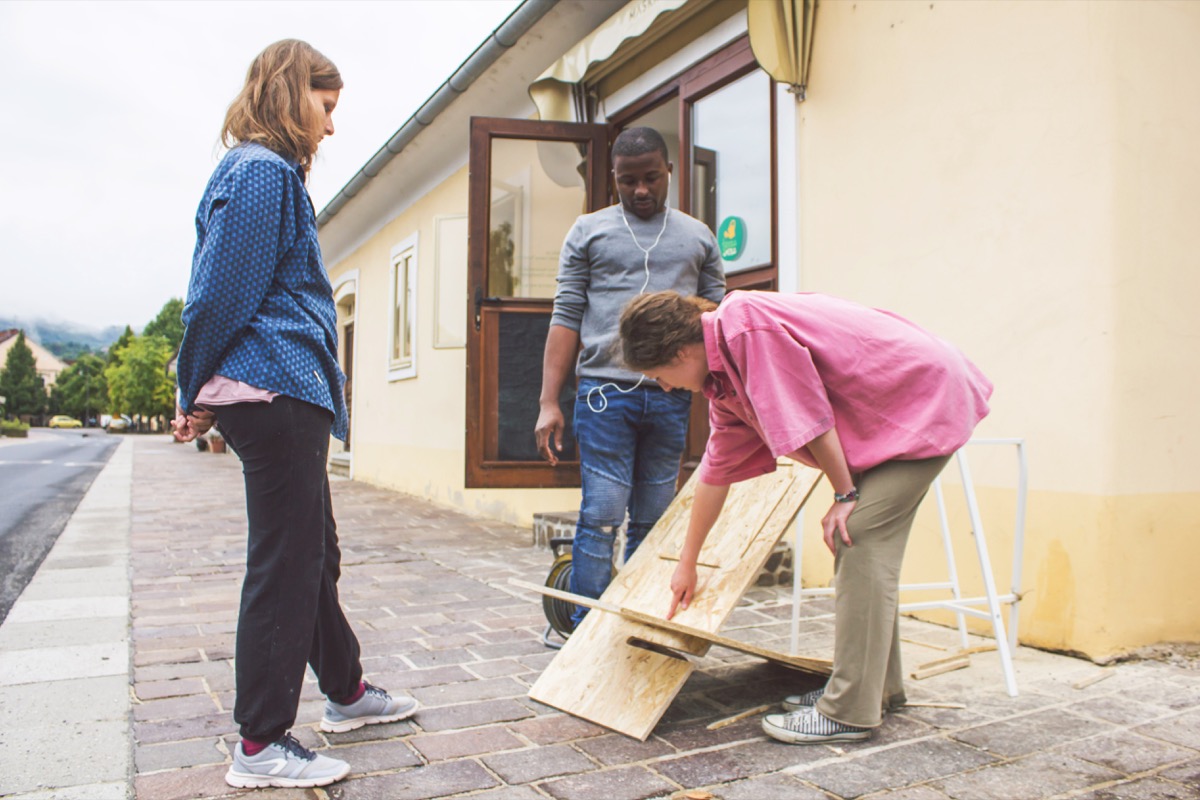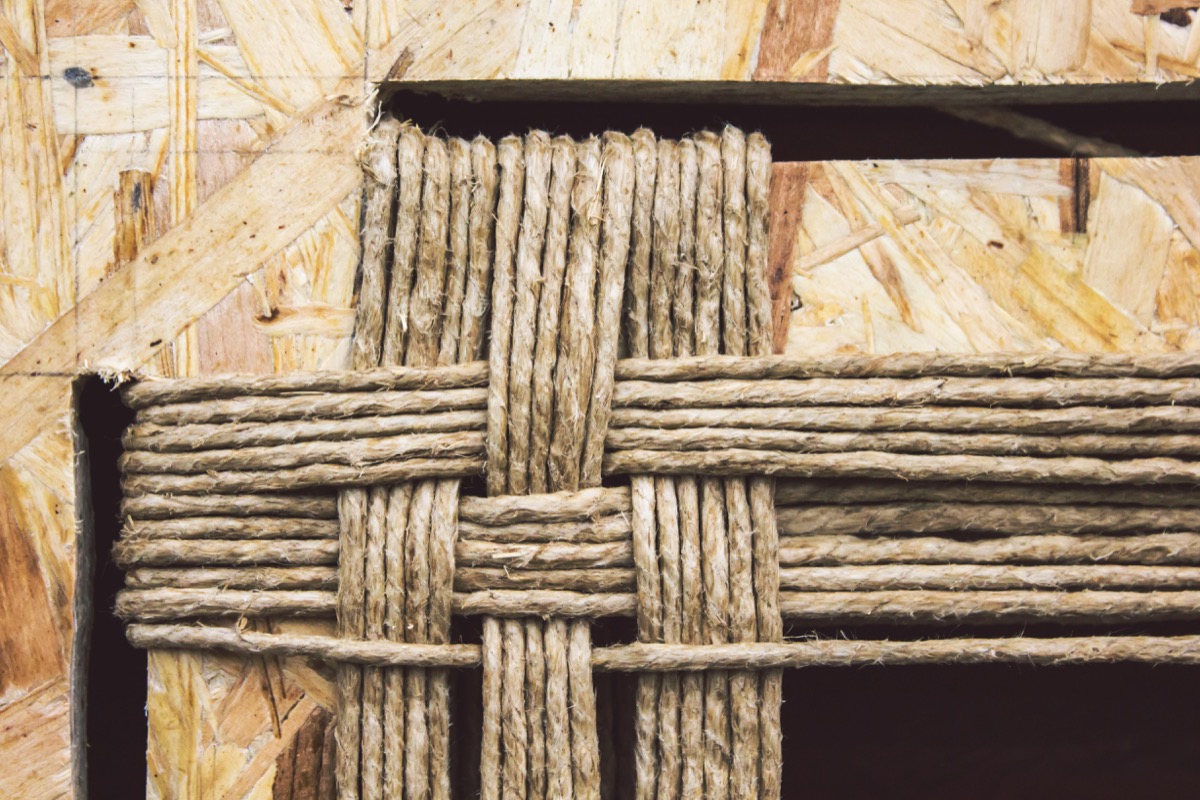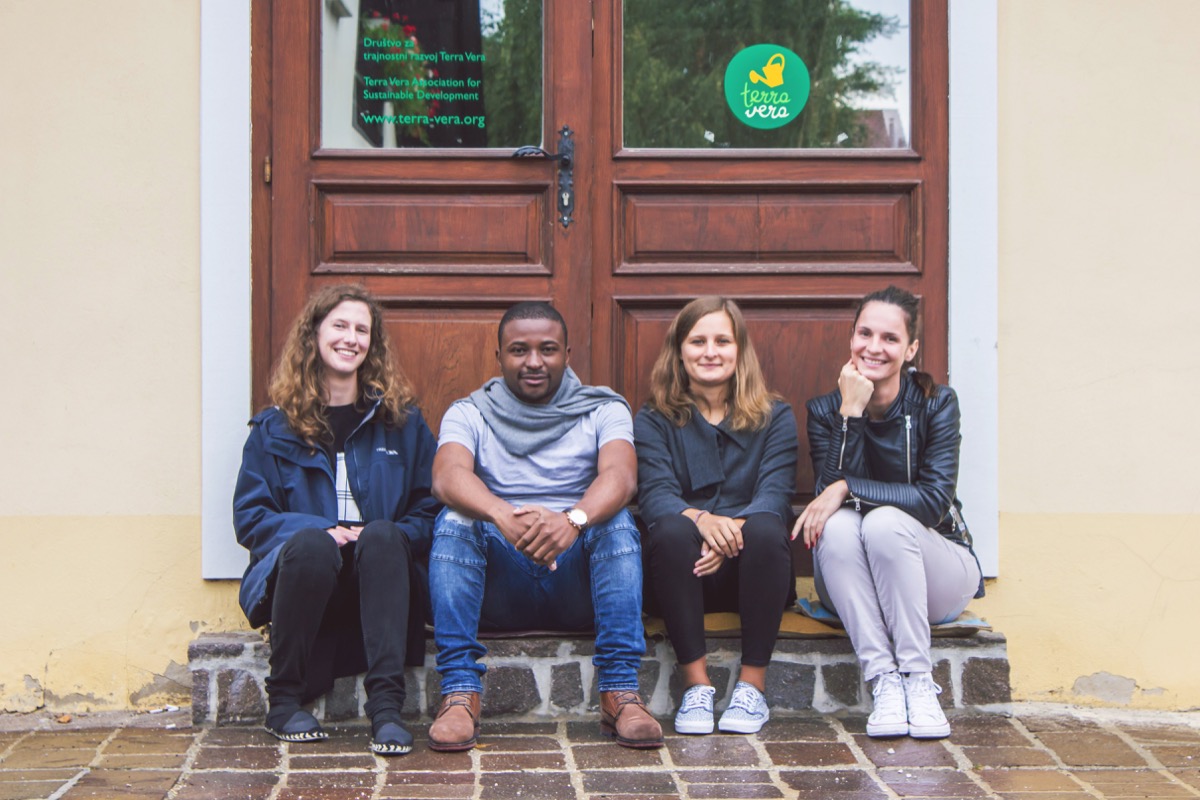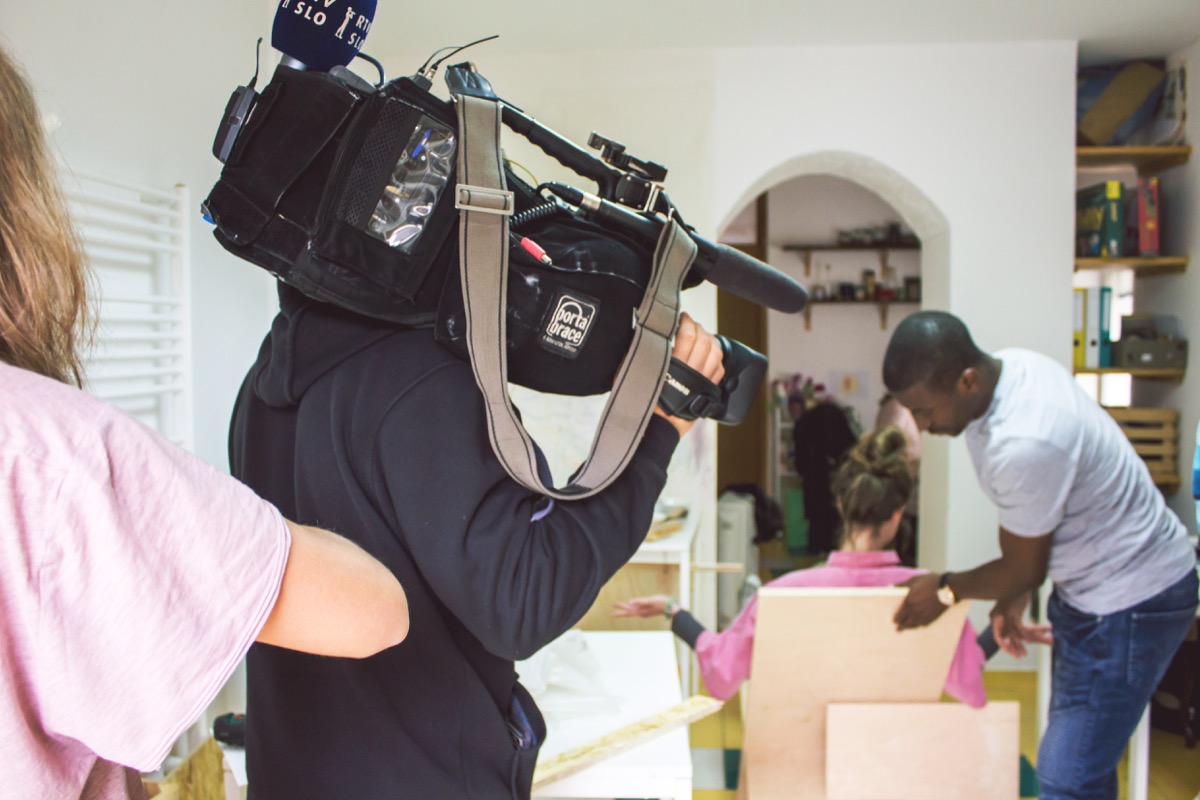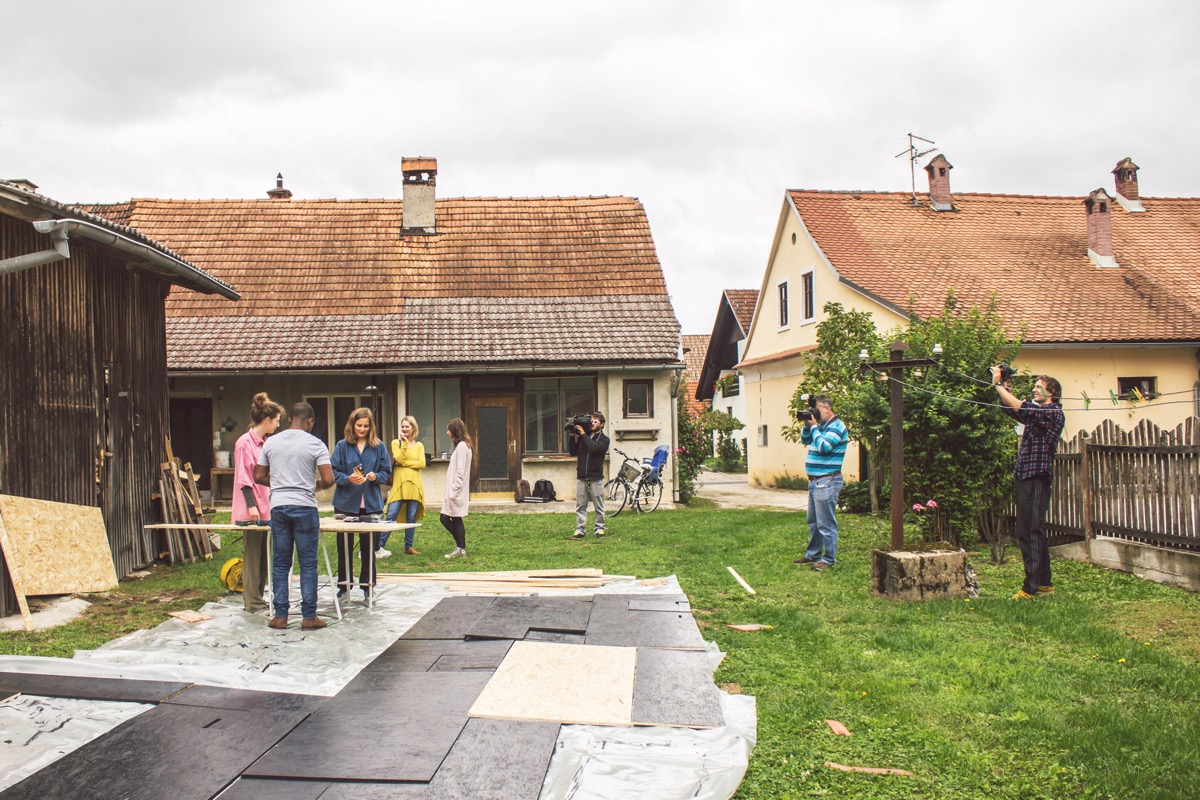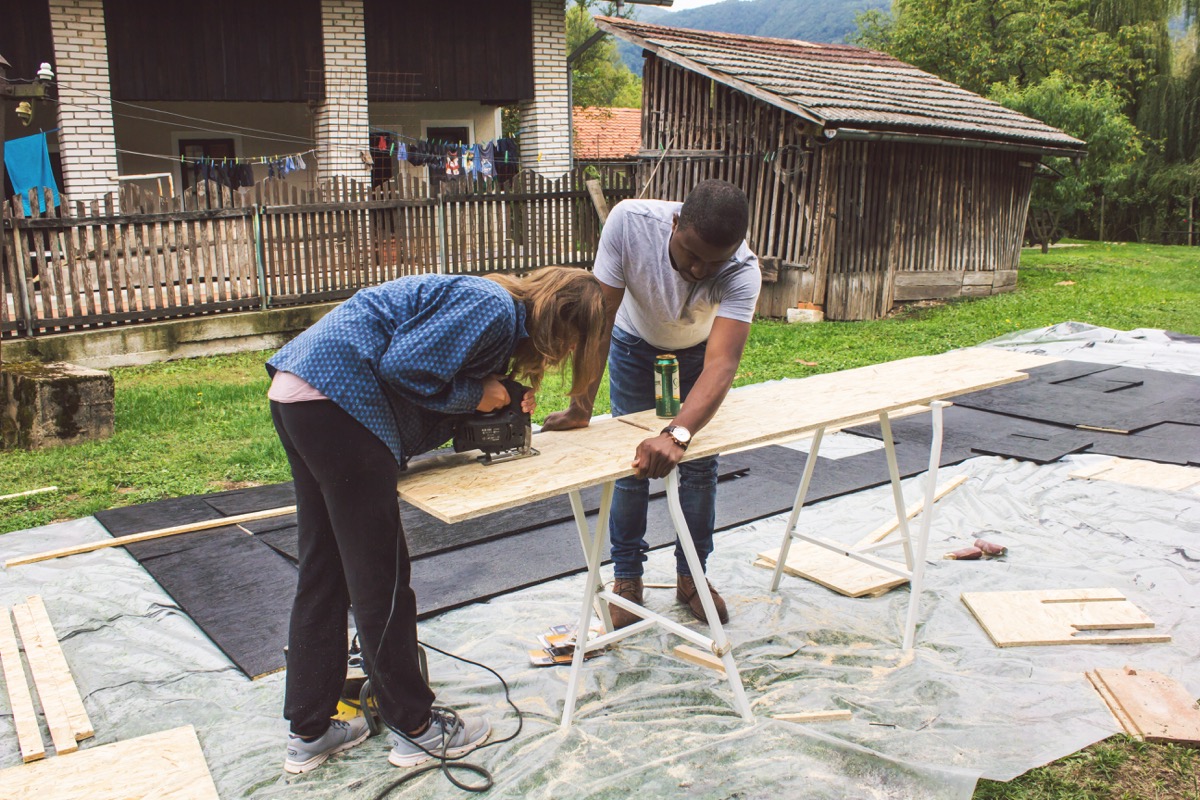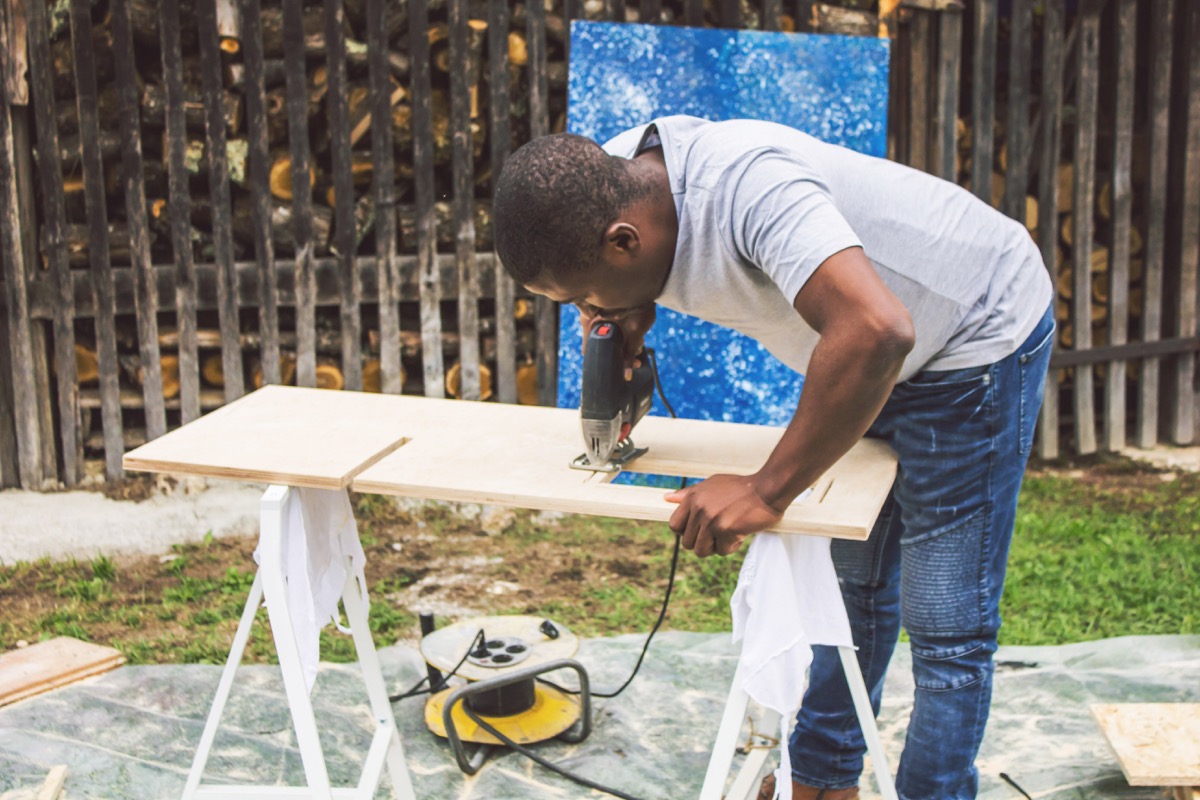 The aim of the memory game, developed during our workshops, was to facilitate socializing and to pursue a common goal of creation among the newcomers and the locals. Each participant randomly formed a pair with another participant and they told each other stories about people, objects and concepts that had influenced their personal histories. They each drew what the other in the pair had talked about. Stories were told in different languages, with gestures and sketches. Memor ies were shared about our very first pairs of shoes, our mothers' most remembered facial expressions and \vhat colours our childhood s could be coloured in. We talked about our best fr iends, ideal sunglasses, how a devil is imagined and many other things. Our storyte lling resulted in sketches, as diverse as our personal memories and imaginations, yet they share many characteristics and can be recognizable as forming pairs. It is this commonality that is the basis for our game of very personal memories.
We started with a wax half-sphere and modeling tools in our hands. Each one of us engraved his own story into that shape. A pendant cast in silver has its visible and invisible sides, and a treasure can be held inside.
Kristina's story
The bird's nest around our neck and close to the heart is a constant reminder of our home, a shelter, full of warmth and love.
Erfan's story
I weaved my half-sphere out of wax threads and cast it in silver. It is a simple story of my love of the handcrafts.
Palmas's story
My tortoise is a great dream symbol of success, life longevity, and wisdom.
Martina's story
During our meetings I was teaching wax modeling to the participants. I created a hand that gives or receives. And that is exactly the story of this workshop and of our meetings that are still going on.
DIALOGUE
Tara Lombergar, Denis Lukeševič, Darija Batić, Polona Šavc, Teja Rojnik, Ina Hadžisulejmanović, Kaja Repenšek and Pia Gorišek , all students of Textile and Fashion Design at the Faculty of Natural Sciences and Engineering, and their tutors, professor Marija Jenko, associate professor Elena Fajt and assistant Petja Zorec, responded to the invitation of the Terra vera Association for Sustainable Development presided by the ethnologist Jana Milovanović. In dialogue with Ilir Halili from Kosovo, Rojin Mohamed, IsmaAel Kalel and Romat Hassan, Kurds from Syria and the Syrians Moutaz Bara and Mahmoud Sabbagh they developed a collection of contemporary products for the home.
Three-dimensional carpet and mirror
Authors: Tara Lombergar, Denis Lukeševič and Ilir Halili
Tara Lombergar wrote on how the project developed: »The inspiration for the carpet came from the conversations with Ilir Halili, who arrived here from Kosovo. We were trying to find common points between our two cultures. We wanted to find a symbiosis between the two cultures and merge them into a single unit. In Kosovo the carpet is given the central position in the living room, while in Slovenia it is often hidden by other furniture. We selected colourful and ornamentally rich carpets from Kosovo, which we transformed and brought up to the present times, while constantly ensuring that we remained true to our original inspiration. From Slovene culture we used lace, which we used to design a lively and active line, which we had cut out from the carpet. The cut out parts, which remained partially attached to the main carpet, were raised and we placed cubes made from mirrors underneath them or we simply placed them back into their original place so that they once again formed the perfect form of the carpet. Three cubes, turned towards each other, create their own social space in the living room, just like taburets in Kosovan living culture. In the mirrors that make the taburets bodiless and invisible we unwillingly see who we are, we become aware of the people surrounding us, our environment, our interior and last but not least, our values.«
Ilir Halili added his own product to this dialogue between the two cultures – a mirror that he framed with lace and incisions, in a way similar to how people in Kosovo decorate their clothes and homes.
Hammock
Authors: Darija Batić, Polona Šavc, Teja Rojnik, Rojin Mohamd, IsmaAel Kalel and Romat Hassan
The idea for the hammock was developed by Darja, Polona and Teja during their conversations with Rojin, Romat and IsmaAel. Through their stories, full of memories of their homes that they had to leave behind, the Syrian Kurds gradually unveiled their rich and unique culture. The textile designers were most interested in their textile tradition. Rojin remembered a simple knotting technique, a manual textile technique, with which she has been creating bracelets and other products for the home since her childhood onwards.
On their refugee path they have slept in all kinds of temporary beds. In the creative thoughts of the three designers the common everyday hammock grew into a small home – a cocoon of peace and silence – made in the same string tying technique as the small bracelets. The net was transformed into a bag, which was heavier and less suitable for carrying around, but which, similar to a hammock, can still be tied between two trees. In addition it allows us to crawl into it and cocoon ourselves into our own world, and lay our tired head on the pillows, which were decorated with the colourful embroidery created by Romat Hassan.
Multipurpose travel bag and drawings
Authors: Ina Hadžisulejmanović, Kaja Repenšek, Pia Gorišek, Moutaz Bara and Mahmoud Sabbag
The shocking story of two refugees from Syria, who were invited to the Terra vera design workshop, touched the textile and fashion design students. The towns in which Moutaz and Mahmoud lived with their families since their childhoods have disappeared. They have lost everything. They have brought to Slovenia only their essentials which they could stuff into bags and this represents their entire home.
Their bitter experiences became the starting point for planning a multipurpose travel bag. Its shape imitates a typical silhouette of a well, which is a source of valuable water and a sign of welfare and the central object in the atrium of every Syrian home. It is composed of two parts: the outer rim and the inner bag, which is subdued into it and at the same time connected with in into a unified whole. The zips make it possible for the cushioned wall to be opened into six pillows that open as petals around the bottom of the travel bag. The contents of the travel bag remain untouched in the inner bag, which can be temporarily moved to free the bottom, which becomes a convenient surface for playing or a setting around which the family can sit and eat.